Our Technologies
The company HEUTHES sp. z o.o. Is a reliable, trustworthy and proven supplier of software for enterprises, banking and financial institutions, having extensive experience in the IT market since 1989. HEUTHES systems are used in bank PEKAO SA (since 1989), as well as in both associations of cooperative banks (bank BPS SA and Grupa BPS and bank SGB-BANK SA and Spółdzielcza Grupa Bankowa), covering 559 Cooperative Banks with a network of 4,444 branches. HEUTHES solutions are also used in DnB Bank Polska SA and Volkswagen Bank GmbH as well as in many companies from the SME sector. Confirmation of the high financial stability of HEUTHES is the annual audit commissioned by independent auditors and publication of the results in the National Court Register.
We have created our own IT technologies that we use to build our systems. The most important technologies include:
BALANCED-CLIENT-SERVER (since 1989 r.),
CLIENT-WEB-SERVER (since 1995 r.),
PROAPERMAN (Probabilistic Application Performance Management, since 1995 r.),
HDB (since 1998 r.),
HDB CLOUD MONITOR (since 2000 r.),
CLIENT-WEB-VOIP (od 2005 r.),
MODRIBUSMAN (Model Driven Business Management, since 2005 r.),
KOBADIBUS (Knowledge Base Driven Information System, since 2007 r.),
R2O (Read Only Access To Replica, since 2011 r.),
RTAPU (Real Time Application Upgrade, since 2011 r.),
UNSYSTOR (Unsymmetrical Storage, since 2011 r.),
HDB ADS (Attacker Detection System, since 2012 r.),
PROFAP (Probabilistic Failure Prediction, since 2013 r.),
HEURISTICS PATTERN FINDER (since 2014 r.),
BIFILAR-CLIENT-WEB-SERVER (since 2016 r.),
CADABAT (Caching Access Data Base Table, since 2017 r.),
VIMI (Virtual User Identity Modules Cross Integration, since 2017 r.),
BLOCKCHAIN SECURITY MODULE (since 2018 r.).
We have developed our own technologies: the HDB NG, Client-Web-Server, Bank Infohighway, Business Infohighway. They enable the creation of any application intended for any platform and also enable the systems to function in a distributed environment with high database security.
Thanks to the application server HDB NG, supported by its own client-web-server technology, the HEUTHES products are accessible on practically every hardware platform and every operating system. They are aimed in particular at customers from the banking sector and SMEs. After conversion to the Java language form, the programs written in HDB language are executed by the application server on all platforms that support this technology, or to the native code (Linux and Windows). HEUTHES technology allows creating applications that cooperate with any relative data directory (e.g. PostgreSQL, Oracle). An example of the use of this technology is the ISOF system, which is used for complex company management (SME) and which uses mobile phones as well as notebooks and PCs. Another important technology-based product is the Bank Management System HEUTHES-GRYFBANK, consisting of a series of interconnected modules covering all areas of banking activities.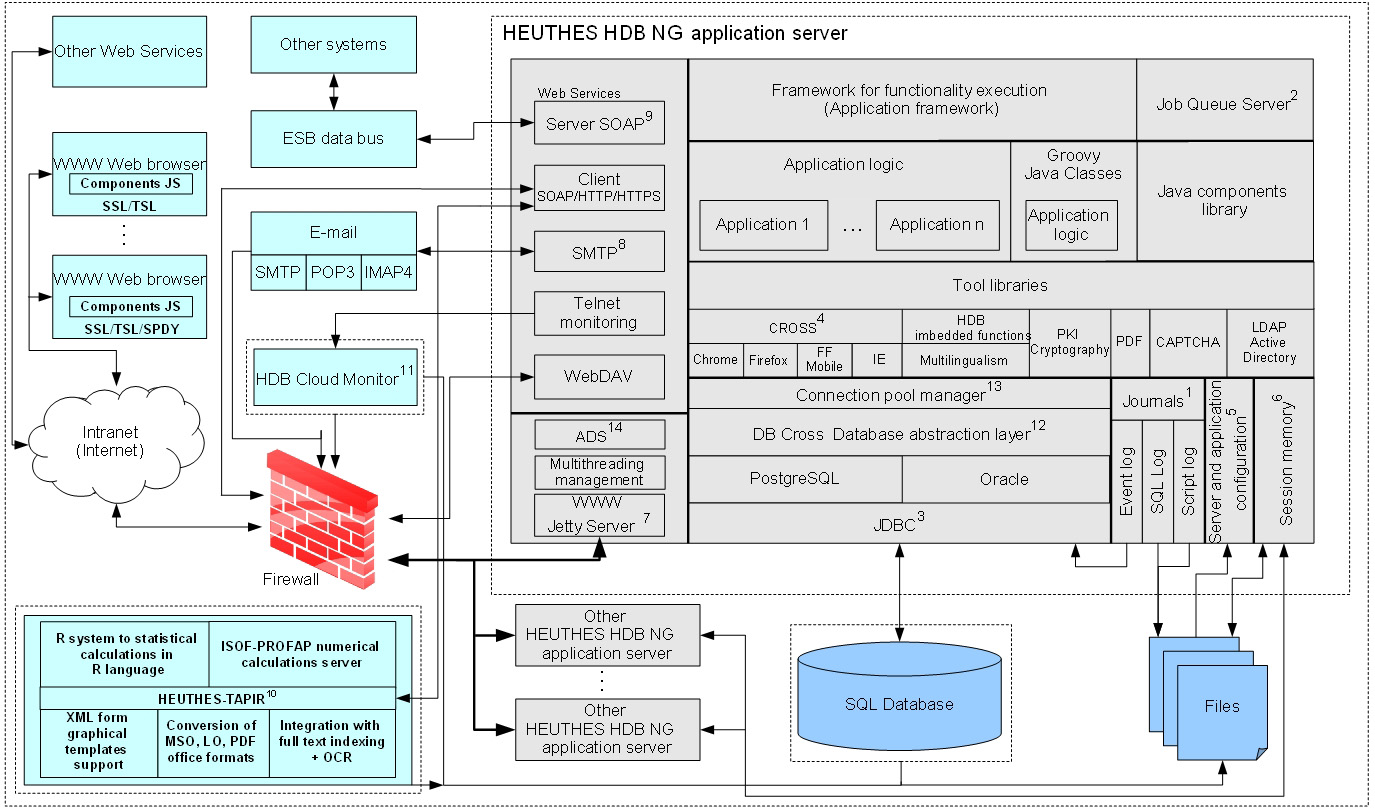 ---
Ask for more details! Send your question ›